Team Barrett shines as Justin Wolf takes 2nd at the 2023 King of 2 Miles with new Barrett Rifle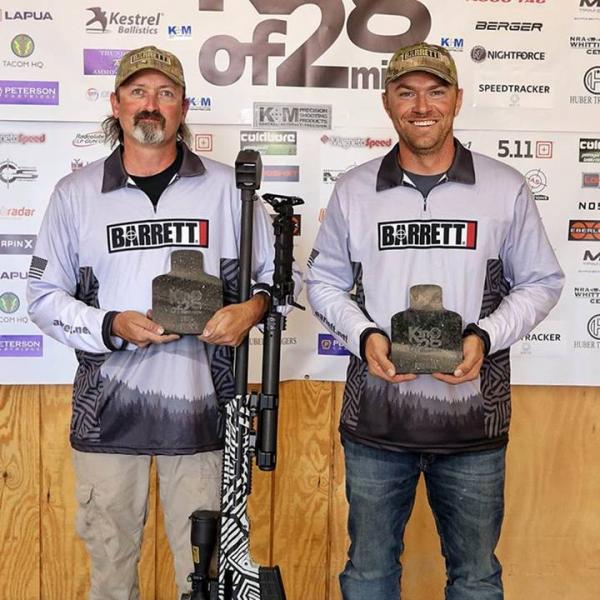 Barrett Firearms competitor Justin Wolf and spotter James Archer finished in 2nd place at the global 2023 King of 2 Miles competition, held at the NRA Whittington Center on September 22-24, 2023.
What makes this result even more impressive is that Wolf was one of only three competitors who successfully engaged all seven targets, the furthest being 3526 yards in the finals with a new Barrett rifle chambered in .416 Barrett using 500 grain Cutting Edge Lazer Bullets.
The three-day event attracts the world's best marksmen and is regarded as the ultimate proving ground for long-range shooting, pushing the boundaries of precision and equipment performance. Of 69 competitors, Barrett represented 11 per cent of rifles competing in the extreme long-range event yet reflected 21 per cent of the global Top 14 finalists. Barrett's competing rifle system was the only factory configured product represented in this year's competition that typically showcases custom-built rifles.
Wolf said the results were a testament to the new Barrett rifle's exceptional precision and the promise it holds for the future of long-range shooting. "It's always amazing to shoot big ELR events like this. The feeling of accomplishment of making the finals and having this success with the new Barrett equipment is second to none."
Bryan James, President of Barrett Firearms, said: "Justin's performance with our rifle at the King of 2 Miles competition is a source of immense pride for Barrett. It is a testament to our unwavering commitment to pushing the boundaries of what is possible in long-range shooting. We look forward to officially unveiling this innovation to the world at the 2024 SHOT Show and bringing the same capability to the hands of marksmen who demand nothing but the best."
Barrett Firearms invites media, industry professionals, and shooting enthusiasts to visit its booth #10344 or Industry Day at the Range during the 2024 SHOT Show in Las Vegas, Nevada, from January 23–26, 2024, where they can experience the new product first hand and learn more about this revolutionary rifle's specifications and capabilities.
About
Barrett is a family-owned and operated company and the world leader in long-range, large-caliber, precision rifle design and manufacturing. Barrett products are used by civilians, sport shooters, law enforcement agencies, the United States military and more than 75 US Department of State approved countries around the world. The Barrett Quality Management System (QMS) has received the prestigious ISO 9001:2015 certification for the design and manufacture of firearms, ammunition, and accessories, and to provide training for those systems.